Two days into the first mill workers strike in over 30 years, Weyerhaeuser employees affiliated with International Association of Machinists and Aerospace Workers (IAM) Local 246 maintained a hearty picket line at all four entrances to the Cottage Grove mill in Lane County. All across the Pacific Northwest over 1100 workers went on strike at 12:01 AM, Tuesday morning. In Lane County there are also picket lines in Eugene and Springfield.
Weyerhaeuser workers have been without a contract since June and have repeatedly stated how they felt slapped in the face by the company's recent contract offer. Workers are fed up with corporate management's offers that fail to keep up with inflation, including increased healthcare premiums that evaporate any pay increases. There is also concern over divide and conquer benefits packages that pit new and old workers against each other.
The Cottage Grove picket line is being maintained by over 200 workers around the clock by mill workers. One mill worker known only as Joe has worked at the facility for over 25 years and says the majority of mill workers either went through or have family who experienced the last strike in 1986. Some workers even proudly display signs produced during the '86 strike.
Joe and others now cite record profits over the last two years in the range of 10 to 16 billion. Mill workers were designated as essential employees during the pandemic and even had to work through wildfire smoke in 2020. Tragically some employees even lost homes during the Holiday Farm fire and continued to work as burnt timber from the very same fire overwhelmed the mill. "We just want a piece of the pie," says Joe.
The Cottage Grove mill has a strong community vibe supported by spouses, locals, and retirees coming to the picket lines in support of the strike. The workers feel particularly disrespected by management policies which recently took away a vacation away from senior workers and gave it to new hires. Both young and old were upset about this type of unequal treatment and saw right through it as a naked divide & conquer ruse. Additionally new hires after 2019 will no longer have a pension and their retirement options will be limited to 401K plans. For a workforce that looks at the mill as a career and not simply a job, this is a very negative development.
The outpouring of support for the strike has been amazing, says one worker. Local business Rally Coffee Bar has been supplying free coffee to workers on the picket line. Many local businesses have been supplying donuts, Gatorade, and water. Cottage Grove Mayor and 33 year mill worker retiree Jeff Gowing was on the picket line in solidarity with the workers. "Corporate Greed is what we are facing," says Gowing, while proudly brandishing his union strong t-shirt. As of Thursday, September 15th informal word from railroad workers under a national strike deadline this Friday have unofficially said, "If we aren't on strike tomorrow, we will come out and make you guys tacos."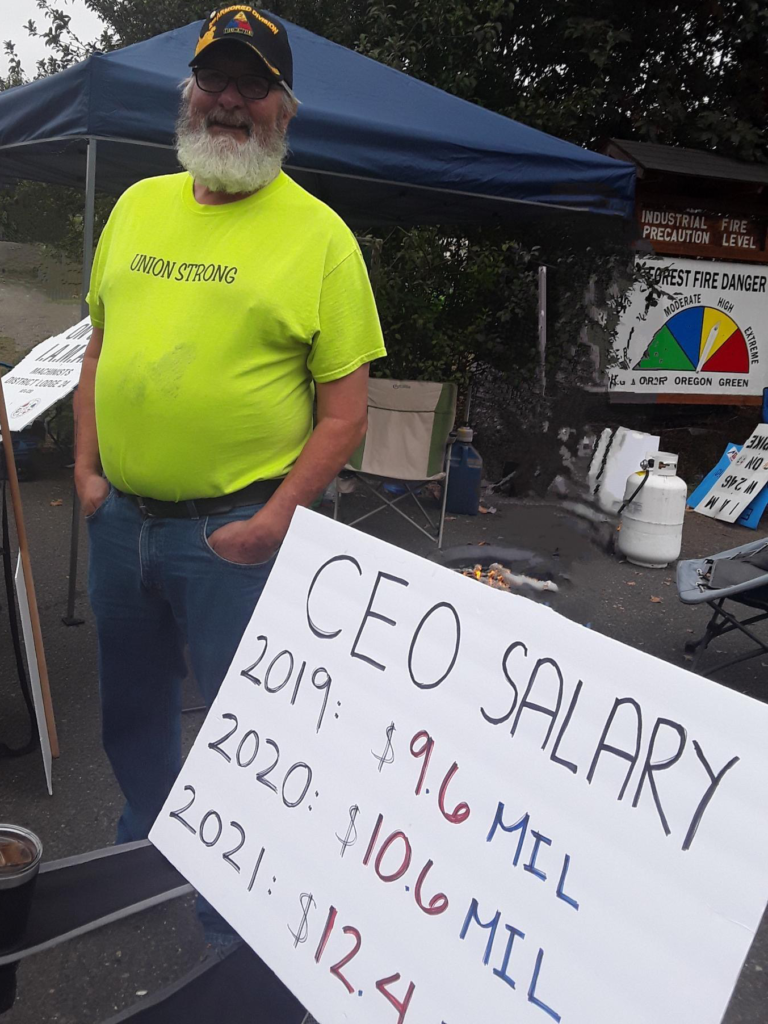 Even while the energy of the strike is high, a sign displaying wildfire danger on "HIGH" looms ominously in the background. Weyerhaeuser considers post fire logging a necessary cleanup act that prevents valuable timber from rotting away or acting as kindling. But significant scientific environmental research from fire fighter advocacy groups like FUSEE has contradicted this narrative. The mill processed a significant amount of the post fire logging from the Holiday Farm Fire in the last two years. Workers say the finished products from post fire logging are relatively similar to traditional timber harvests despite the lack of environmental protocols in post fire landscapes. Mill workers noted some tweaking that needed to occur while processing burnt logs, one worker disclosed decreased air quality in the work environment, "If you walk too close to the de-barker machine it feels like you're breathing in oven cleaner."
Though the mill usually only processes Douglas Fir from Weyerhaeuser owned timber farms, the ongoing effects of significant post fire logging will no doubt increase the risk of wildfire in Lane County and further contribute to regional & global climate change.
The workers are not unaware of the environmental concerns of their industry and cite groups like the Associated Oregon Loggers (AOL) that environmentally mandate their operation. They noted how the mill stopped using sprinklers on their log inventory to prevent drying because of concerns over water runoff. But with most of the timber they produce being shipped overseas the mill is extracting a significant quantity of carbon out of the Oregon landscape.
One old timer says that this mill produces more than what 90 mills produced in 1961. Some have reminisced that as productivity and automation has increased, labor conditions have made employee retention harder. Previously unheard of situations where new workers quit after a day or two are becoming more common in the last five years. Even though workers are determined to maintain their picket lines at the Cottage Grove mill, workers parted to let management pass at mill entrances, and the strike is still far from ugly.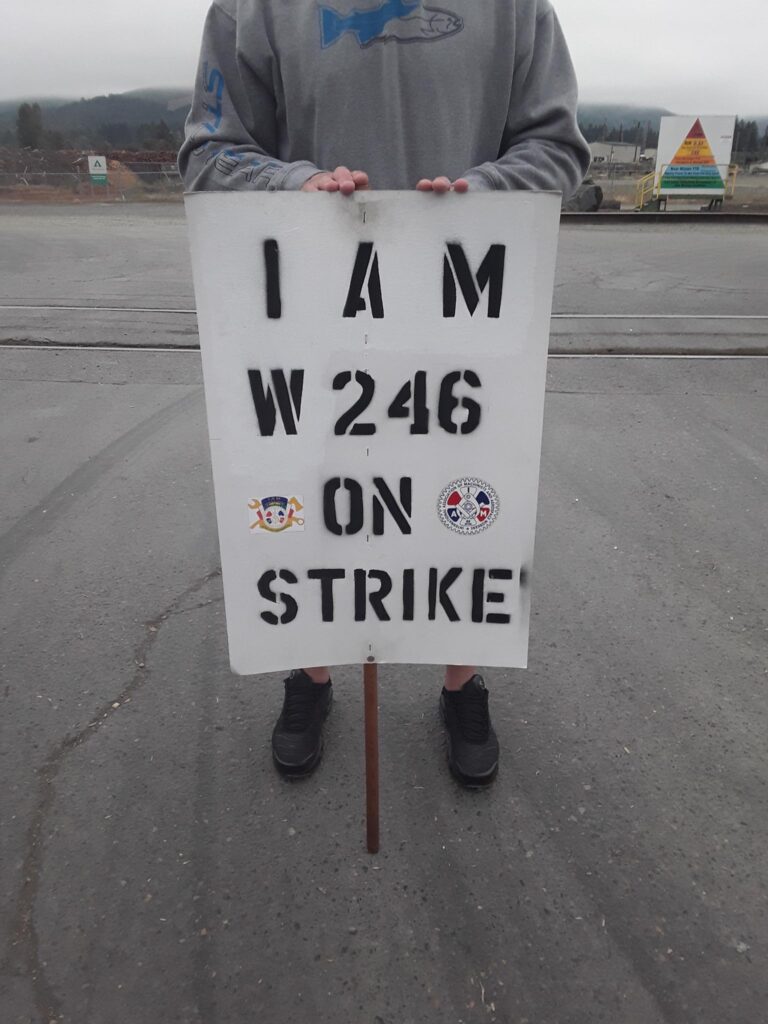 Workers say Weyerhaeuser used to offer one of the best benefits and wage packages They say with each successive recent contract it has gotten worse.
In Eugene, nine striking workers were stationed outside the Weyerhaeuser corporate office on Franklin Blvd. They started their picket line Thursday at 5 AM and went until 5 PM. The workers were a mix of loggers and drivers. They noted that the management behind them was working from home much of the last two years while they did not have that. option Ernie, a 21-year truck driver with the company, says that the workers keep the company running, "without [them] they would be nothing".
Over this summer workers at the Eugene plant sought to join the Union, being the only non-unionized plant. IAM says at the beginning of the campaign 75% of workers were supportive, but Weyerhaeuser fought back with anti-union propaganda. Ultimately the company was successful, with 75 workers voting against forming a union and only 39 voters for it. 154 workers in total were eligible for the union vote.
In addition to the picket line at the Cottage Grove Sawmill and the picket in front of Weyerhaeuser corporate office in Eugene, workers are picketing at the Springfield logging plant. The union gave a shout out to Oregon AFL-CIO, who has helped them organize strike actions, and they additionally say that the Teamsters have had their backs.
Workers and management are hoping to return to the bargaining table this Friday and make progress on a contract.